Hello guys! New sample being given out by Simple Skincare to try out their new Micellar Cleansing Water!  As far as I know these are only available to the U.S, and samples are only available until 6/30/15.
Here's what Simple Skincare have to say about their Micellar Cleansing Water: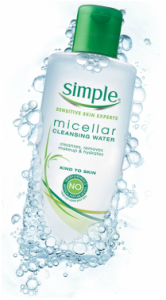 Daily life dehydrates skin, making it sensitive.

Introducing Simple® Micellar Cleansing Water with triple purified water to thoroughly
cleanse while instantly boosting your skin's
hydration. It's our most advanced yet
gentle hydrating cleanser.

Test the Water and experience a
new kind of clean.
To request your sample, simply head on over to the Simple Skincare website by clicking here!
As always we hope you enjoyed this freebie!